Conjure a quintessential breakfast plate in your mind. Eggs. Toast. Orange juice. And, of course, bacon.
These savory strips of pork are a favorite among many early-morning meal eaters, bringing a fatty and smoky tinge to any dish.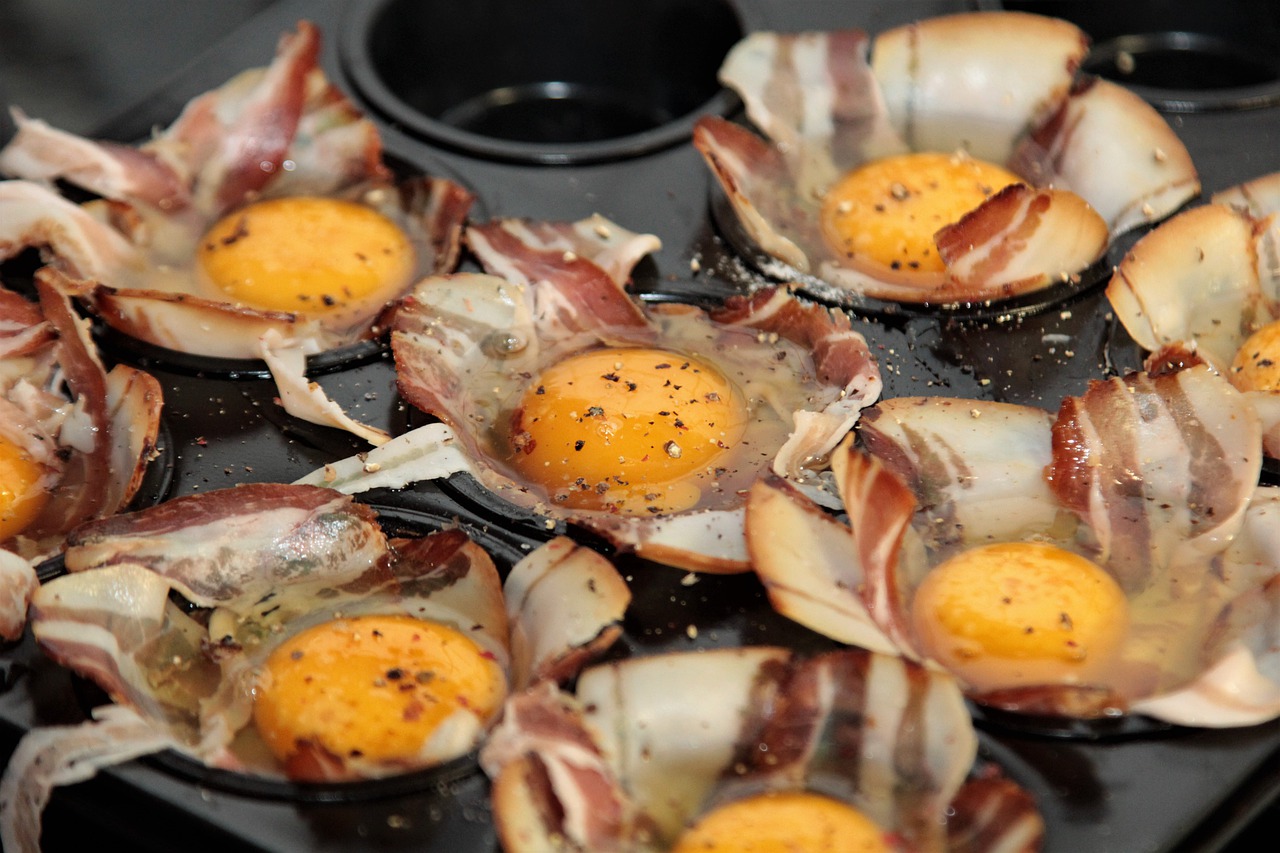 While bacon is certainly fine all on its own, there are many ways you can use it in recipes to start your day.
1. Bagel Sandwich with Bacon Jam
If you haven't heard of this bacon-based relish, you should seek it out immediately. Bacon is slow cooked along with onions, vinegar, brown sugar and spices. Other flavors may be added to make unique bacon jams like honey habanero or sweet chili.
Sandwich lovers will want to use this spread as part of a stacked snack: Spread bacon jam on the top half of a bagel. (The bottom, too, if you really love the flavor!)
On the bottom of the bagel layer a fried egg, crispy bacon strips, tomato, and arugula.
Top the sandwich with the bacon jam-slathered bun and see just how much you can cram in your mouth in one bite.
2. Cheesy Bacon and Egg Hash
If you're a fan of one-pan cooking, you'll want to integrate this into your routine.
Heat oil in a large skillet over medium heat and add in four cubed medium size potatoes, frying for 20 minutes until crispy.
Add four diced strips of bacon to the pan and crisp them up, stirring occasionally.
Add two finely sliced scallions and season with pepper to taste.
Using a spoon or spatula, make four wells in the hash. Crack an egg into each and rim each with shredded mozzarella to keep it from running.
Continue frying until the whites are set and the yolk is cooked to your liking, then scoop out to serve.
3. Bacon and Egg Breakfast Cups
Preheat your oven to 400 degrees Fahrenheit and grease a muffin tin.
Wrap a piece of bacon around the inside of each tin insert, as many cups as you would like to make. Crack an egg into each bacon-lined cup.
You can sprinkle with salt, pepper, other spices, or even cheese before putting them in the oven to bake for about 12 minutes, until the whites are set.
4. Bacon Pancakes
Who needs blueberries when bacon is at hand? Whether you are using store-bought pancake mix or making your own from scratch, you can ramp up the sweet and savory balance with some bacon bits.
Dice a pound of bacon up into 1/8-inch pieces and fry up until crisped to your liking. Pat dry.
Once your pancake mix is on the griddle, sprinkle in as many bacon bits as you'd like and cook pancakes until done, flipping halfway through.
5. Bacon Mushroom Spinach Frittata
Perhaps you're looking to get a little more veg into your breakfast.
Preheat your oven to 425 degrees Fahrenheit. Whisk together in a bowl five eggs; ½ cup of milk; 1/2 teaspoon each of dried basil, oregano, and thyme; and salt and pepper to taste. Add four slices of diced cooked bacon.
In a cast iron skillet, fry up two cloves of garlic and 8 ounces of cremini mushrooms until tender and brown. Stir into the pan 2 cups of baby spinach and one diced tomato until spinach wilts, then add in bacon/egg mixture.
Cook undisturbed until the edges are set for 2 minutes, then transfer to the oven to bake for 15 minutes.