An absconding criminal was caught by law enforcement officials within days of liking a wanted picture of himself that was uploaded on the Crimestoppers Facebook page of Cascade County.
Levi Reardon, aged 23 years was wanted for multiple felony charges of forgery and theft comprising of forging personal cheques and stealing wallets. He had been wanted for seven days with two warrants already being issued for his arrest.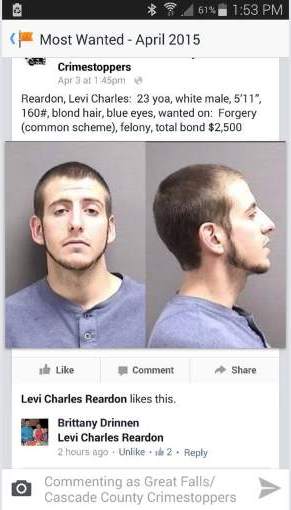 The fact might be that successfully cashing a couple of stolen cheques had swollen his ego to the point that he started considering himself a pro like the forger of Frank Abagnale, Jr featured in the movie Catch Me If You Can since he dared to mock the investigators of his case by liking his own "wanted" post on their Facebook page.
However, he didn't have to wait too long after this incident as he was then located, arrested and presented before the court. One might consider this to be similar to Leonardo's arrest after being too cocky but that would be quite an exaggeration.
Multiple journalists have since tried to reach him via Facebook but he is yet to respond to any of them.